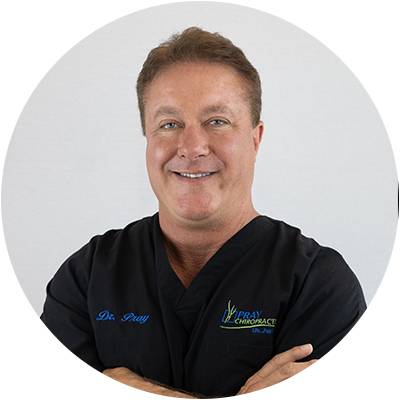 Chiropractor
Charles Pray D.C.
Location: Ringgold
Offering Manual, Pain Free Adjusting
Dr. Charles G. Pray is originally from New Hampshire and came to Georgia to attend Life University to become a chiropractor. Dr. Pray has been serving the North Georgia area for over 25 years with his unique chiropractic approach of helping people get out of pain fast and then stay pain-free so they can enjoy life to the fullest.
Established by Dr. Charles G. Pray in 1995, Pray Chiropractic has become a recognized leader in the expanding natural healthcare field. Always on the cutting edge, in 2005, Pray Chiropractic became the first chiropractic facility in the nation to offer direct digital x-rays.
In 2010 he designed and built the 5000 square foot state of the art facility in Ringgold where he uniquely combined the chiropractic with computerized spinal decompression and deep tissue laser to get people well faster and successfully treat a wider variety of conditions. In February of 2018 he opened a new 6000 square foot office in the heart of Dalton to accommodate the demand for his services. Dr. Charles Pray is an expert in the diagnosis and management of spinal related disorders. He uses the latest in chiropractic technology to help patients get well, some with literally no twisting or popping of the spine and he tailors each adjustment to each individual's physiology, age, and spinal condition. Dr. Pray is known for his innovative, painless treatment methods and patients are always excited about what is coming next. In the annual contest by the Chattanooga Times-Free Press, satisfied patients have voted Dr. Charles Pray Chattanooga's and North Georgia's "Best of the Best" Chiropractor 11 years in a row!
Dr. Pray is dedicated to cutting-edge solutions and is constantly researching and traveling the country to bring the best treatment options to his patients.
---
Staying Busy Outside of the Office
Dr. Pray and his wife, Dawn, enjoy staying active by hiking, biking and being in the great outdoors. Dr. Pray likes to travel, spend time with his 4 children, and make the most of downtown living. If you'd like to schedule an appointment, contact our friendly, caring team today! We're in-network providers with many insurance plans.
Chiropractor
Nick Nicholson D.C.
Location: Ringgold
When he was taking a psychology exam during his undergraduate years, Dr. Nick experienced severe neck pain to the point where he couldn't hold his head up. Faye, his then-girlfriend (now wife) took him to her chiropractor who adjusted him. Afterward, Dr. Nick was able to hold his head up and finish the exam.
He later met with the doctor who talked to him about a career in chiropractic. "I thought it sounded like a rewarding career that would allow me to serve people."
---
Extensive Experience
Since graduating from Life Chiropractic College in 1983, Dr. Nick has enjoyed a successful career. He had three thriving clinics in Georgia, which included MedPlus practices that combined medicine, chiropractic and massage therapy. He has worked with Pray Chiropractic in the Ringgold office since 2010 and enjoys not having to deal with the administrative aspects of operating a clinic!
---
Getting Great Results for Patients Across the Spectrum
Over his years in practice, Dr. Nick has helped patients of all ages from kids to seniors. He finds it gratifying when they experience fantastic outcomes and show their appreciation with a smile and a thank you. One patient was so grateful to Dr. Nick as he was able to walk after not being able to stand up.
Dr. Nick also helps those with sports-related injuries. He was one of the chiropractors who cared for the women's weightlifting team during the 1996 Summer Olympic Games in Atlanta. Dr. Nick also prides himself on knowing most techniques, and he is an expert in the evaluation and treatment of various pain syndromes, disc injuries, sports injuries, and soft tissue rehabilitation.
---
A Memorable Success Story
One of Dr. Nick's patients had neck pain, back pain, headaches, and pain down her arms and legs. She said, "Everyone thinks I'm a hypochondriac." Dr. Nick saw that she had spinal problems and treated her. "When she was near the end of her care, and all of her symptoms were gone she broke down and started crying. I asked her why she was crying and she said, 'You don't know what it means to me that I'm not a hypochondriac.'"
---
On a Personal Note
Dr. Nick and Faye have three sons, all of whom were homeschooled. In his spare time, he enjoys fishing and hunting with them. He also is involved in his church and has led a men's discipleship group.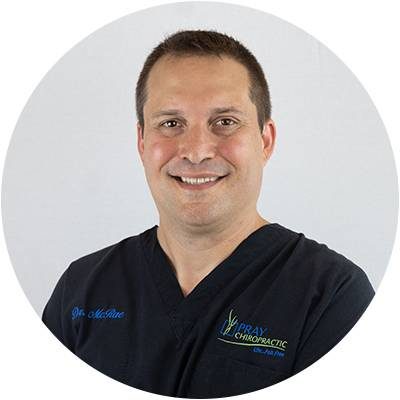 Chiropractor
Jason McRae D.C.
Location: Ringgold
Even at 9 years old, Dr. McRae knew he wanted to be a doctor. "The chiropractor who helped me get rid of my migraines said, "Why don't you look into chiropractic? I think you'd be good at it." Dr. McRae did look into this form of natural health care and liked that it focused on prevention and keeping people well instead of waiting until things fall apart.
Education and Experience
After earning his undergraduate degree from Central Michigan University, Dr. McRae went to Logan College of Chiropractic (now Logan University) to earn his Doctor of Chiropractic. He graduated in 1997 and has enjoyed practicing for more than 20 years. Before coming to Pray Chiropractic, he worked extensively in functional medicine and owned several chiropractic clinics.
---
Seeing Patients Get Their Life Back
Not only is it gratifying to help his patients get out of pain, but Dr. McRae enjoys helping them return to participating in their favorite activities. He sees patients of all ages in the Ringgold office and appreciates being able to help people in his community.
---
Family and Hobbies
Dr. McRae and his wife Jennifer have three sons: John, Caleb and Luke. In addition to spending time with his family, he also likes to hunt, fish and travel from time to time.
Chiropractor
Edgardo (Eddie) Salas D.C.
Location: Dalton
Dr. Salas received a scholarship to play baseball at the collegiate level. While playing at Alcorn State University in Mississippi, he hurt his shoulder and neck. With a torn labrum, Dr. Salas was scheduled for surgery. The team chiropractor provided care to Dr. Salas for a week, and he ended up not getting surgery. "I was able to resume my career, and that motivated me to pursue a career in chiropractic."
Education and Professional Development
A 2019 graduate of Life University in Marietta, Dr. Salas admired many of the chiropractors there, some of whom had decades of experience. "I would see them excited about coming to the clinic. I want to be excited about what I do 30 years from now!"
In addition to his Doctor of Chiropractic, Dr. Salas is basic certified in Chiropractic BioPhysics (CBP®). He also is board licensed certified in physical therapy modalities and speaks Spanish.
---
Providing Help and Hope
Dr. Salas enjoys interacting with different people from various backgrounds. He sees patients come in with pain and little hope, and who are headed to surgery. They come through the door barely able to sit, walk or do activities of daily living. Then 2-3 weeks later, after receiving chiropractic care, they come back and compliment Dr. Salas for giving them their life back.
"If I can do anything to give them their life back, then that fills me with joy. It fuels my fire as a chiropractor."
---
Taking Time to Connect
If you've ever felt rushed at other practitioners' offices, you won't here. Dr. Salas has a knack for connecting with patients on a much deeper level. He has excellent people skills and takes his time with each patient. Dr. Salas will get to the bottom of your particular issue.
---
In His Spare Time
Outside the practice, Dr. Salas enjoys spending time with his family, including his soon-to-be wife Natalia, who is also going to be a chiropractor. They enjoy hanging out with their pit bull Chloe. He also enjoys getting involved with his community's baseball team and has volunteered as a baseball coach of kids' teams for the past several years. Dr. Salas also loves anything baseball. He especially enjoys watching the Braves play on TV.
Chiropractor
James Bodkin D.C.
Location: Ringgold
Dr. Bodkin joined Pray Chiropractic's Dalton office full time in July 2019. As a high school football player, Dr. Bodkin injured his shoulder while playing. He went to see multiple doctors and had physical therapy, but he didn't get the results he was looking for. Dr. Bodkin's father was under chiropractic care at the time and got incredible results as far as pain relief and improved range of motion.
"I was 16 or 17 then, and knew that I wanted to do something in the medical field." Dr. Bodkin thought it was awesome to heal people with just your hands."
---
A Chiropractic Education
Dr. Bodkin earned his Doctor of Chiropractic from Sherman College of Chiropractic. While in school, he and fellow students practiced on each other and then started seeing patients from the community. Dr. Bodkin found it highly fulfilling to see patients feel better and move better.
Helping to Improve Patients' Lives
Genuine and caring, Dr. Bodkin always seeks to get his patients the results they want. In practice since 2009, he has helped many patients get better and improve the quality of their life. He sees patients across the spectrum, from children to athletes.
"When they get under care and say, 'my life is completely different,' this hits home and makes me happy to be able to help someone."
---
Outside the Practice
When he's not working, Dr. Bodkin enjoys spending as much time with family as he can. He and his wife Meredith have two children: son Landon and daughter Audrey. Dr. Bodkin likes leading his family in healthy living. He particularly enjoys soccer, going on hikes, eating healthily and exercising. His other passion is music. He plays the guitar and drums.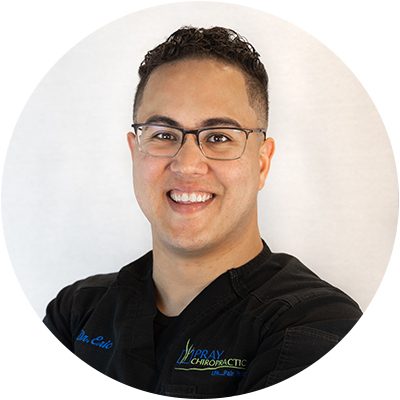 Chiropractor
Eric Rivera-Cruz D.C.
Location: Dalton
Dr. Eric was born and raised in Puerto Rico and received his undergraduate training at both the Universidad de Puerto Rico and the University of Central Florida ("UCF") where he earned his bachelor's degree in biomedical sciences in 2016.
Though always interested in a career healing others, it wasn't until college that Dr. Eric first saw the impact of chiropractic when his father received treatment for his hurting back. It was then that Dr. Eric decided that he too wanted to treat others naturally and he decided to pursue a career in chiropractic. Dr. Eric graduated from Palmer College in 2019 with his doctorate in Chiropractic. He served a six-month externship at the Veteran Affairs Department, receiving clinical training in acupuncture, electrodiagnosis as well as neurology. He is fully bilingual and licensed in both Tennessee and Georgia. Dr. Eric's gentle manual adjusting techniques make him the perfect fit for Pray Chiropractic.
Dr. Eric resides in the Dalton area with his best buddy, a husky named Jasper. When not working, Dr. Eric can be found outdoors playing golf or cycling.
Chiropractor
Javier Loucil D.C.
Location: Dalton
Dr. Javier Loucil recently joined the full-time team of chiropractors in Pray Chiropractic's Dalton office. Dr. Loucil was born and raised in Arecibo, Puerto Rico, so he is fully bilingual in both Spanish and English.
Before embarking on his chiropractic education, he studied Biology at the University of the Sacred Heart. Dr. Loucil went on to earn his Doctorate in Chiropractic from Life University in Marietta, Georgia, graduating Magna Cum Laude. During his chiropractic studies, Dr. Loucil completed many clinical rotations to gain as much knowledge as he could about diagnosis and treatment strategies for various conditions.
Dr. Loucil's love of chiropractic stemmed from his receiving chiropractic care as a young boy in Puerto Rico. His hometown neighbor was a chiropractor. While growing up, Dr. Loucil kept himself busy trying new things, running, biking, swimming, and surfing. Every time he hurt himself, the chiropractor was there to take care of him. Also, Dr. Loucil's father had suffered from lower back pain, and the chiropractor was the key to making him feel better. That's how his interest in chiropractic began. He decided then that he wanted to help patients feel better and live a healthy, drug-free lifestyle.
Dr. Loucil establishes a tailored game plan with his patients at the start of care to achieve the patient's desired health goals while delivering the most innovative care possible. Dr. Loucil provides family chiropractic care to all ages, with a specialty in whiplash injuries. Dr. Loucil is continually seeking to further his chiropractic knowledge by reading the latest research on new therapies and techniques.
When not working, Dr. Loucil enjoys spending time with his wife Sofia, and their daughter, Marena. He likes going on hikes, biking, traveling, and finding any chance to escape to the beach.
Chiropractor
Julio Gabriel Borrero D.C.
Location: Dalton
Dr. Julio Gabriel Borrero recently joined the team of full-time chiropractors at Pray Chiropractic's Dalton office. Dr. Borrero is fully bilingual, having been born and raised in Salinas, Puerto Rico. Dr. Borrero received degrees in mechanical and industrial engineering before receiving his chiropractic degree from Life University in Marietta, Georgia.
Dr. Borrero's passion for becoming a chiropractor stemmed from the chiropractic care he received as a teen when sidelined with baseball injuries. The effects of that care were profound not just in terms of pain reduction and enhanced athletic performance but also in his choice of a profession. Dr. Borrero's personal experience made him realize that he wanted to dedicate his career to improving others' quality of life through chiropractic. At Pray Chiropractic, Dr. Borrero treats patients of all ages, emphasizing treating patients with sports injuries and disc conditions. Dr. Borrero takes a special interest in his patients, educating them on non-surgical options and providing advice specific to their type of pain. He encourages patients to take an active role both in their recovery and path to wellness.
Dr. Borrero and his wife Hilda met as children while living in the same small town in Puerto Rico, where they both became the first chiropractors to hail from their hometown. The two share a passion for rescuing animals and finding homes for them. The pair currently have two Shih-Tzu dogs, Chocobo and Copper, and a siamese cat, Jimena. When not working, Dr. Borrero enjoys all sorts of outdoor activities such as hiking, kayaking, baseball, football, and soccer.